Behavioral Telehealth Resource Center
Behavioral Telehealth Resource Center for Mental Health Practitioners
The Behavioral Telehealth Resource Center works to address the ongoing needs for education, technical assistance and telehealth best practices for Mental Health Practitioners. Telehealth reduces barriers due to geography, transportation, time and workforce shortages. This project is supported by funds from the Michigan Health Endowment Fund and will foster the use of telehealth approaches beyond the pandemic and solidify these as a permanent part of Michigan's behavioral health landscape.
—


Telehealth Experience and Resource Needs Survey
The Community Mental Health Association wants to learn about client telehealth experiences. This information will help us provide the best support possible to local community mental health centers. Click here to download a flyer that can be distributed to clients. The flyer describes the survey and how to complete it electronically. The QR code above will take you directly to the survey.
CMHA and Public Sector Consultants administered a 16-question online survey of behavioral telehealth service providers and clinical supervisors. There were 846 completed survey responses. The summary report highlights key findings and summarizes the results.

The HHS-OIG has released two new telehealth reports, both related to the use of telehealth to deliver behavioral health services to Medicaid beneficiaries. HHS-OIG breaks up the study into two reports:
Both reports are based on surveys the HHS-OIG conducted with Medicaid Directors from 37 states and stakeholders in 2020. The HHS-OIG will apply the findings to support understanding and recommendations to the CMS around post-pandemic telehealth policy.

The purpose of this bulletin is to clarify current Medicaid program coverage of asynchronous telemedicine services, including store and forward services, inter-professional telephone/Internet/electronic health record consultations, and Remote Patient Monitoring (RPM) services.
Resources & Partner Organizations
Below are resources to help develop and strengthen the statewide infrastructure needed to foster the sound use of telehealth approaches: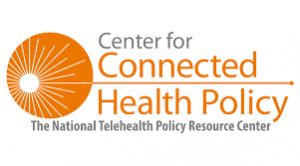 The Center for Connected Health Policy (CCHP) has released a small study report funded by a grant from the Federation of State Medical Board Foundation. This report shares information from federally qualified health centers (FQHC) on the use of audio-only during the pandemic and may be used to guide future payment policies and Medical Board regulations.
Recordings Available! Center for Connected Health Policy (CCHP) Fall Telehealth & Medicaid webinars
Session 1 Medicaid and Audio Only: Panelists will discuss what their Medicare Medicaid programs may decide or have already decided in regards to permanent policies involving audio-only telehealth services.
Session 2 Medicaid Telehealth Policy and Data, Evaluations and Stakeholders: This webinar focused on the efforts some Medicaid programs have made in collecting data and working with other groups to solidify the next steps in their telehealth policy development.
Session 3 Telehealth and Patients with Disabilities: This webinar focused on what Medicaid programs and other state agencies have done to help people with disabilities can utilize telehealth.
Session 4 Medicaid Telehealth Permanent Policies: This webinar focused on the permanent telehealth policy changes Medicaid programs have made and what went into those decisions.
This report summarizes Michigan Medicaid Telehealth polices, report is generated and updated by the Center for Connected Health Policy.
State Telehealth Laws and Reimbursement Policies Report, Spring 2021
The Center for Connected Health Policy (CCHP) has released its Spring report. This report has transitioned to online format. Use the Policy Finder to track up to date information on each state that is easy to navigate and understand or read the Executive Summary for an overview of the Center's findings. CCHP has also created a policy infographic which is a 2-page overview of the policy trends.

Telehealth Resource Centers funded by HRSA and set up regionally
Additional Resources and Links
The Emergency Broadband Benefit will provide a discount towards broadband service and on the purchase of a laptop, desktop computer or tablet.
Please share this information with the communities you serve.
Medicare and Telehealth: Coverage and Use During the COVID-19 Pandemic and Options for the Future.
A Kaiser Family Foundation brief presents an analysis of Medicare beneficiaries' utilization of telehealth using CMS survey data from 2020.
American Psychiatric Assn (APA) National Public Opinion Survey on Telehealth
The APA completed a national public opinion poll finding that the expansion of telehealth is welcomed by most Americans. A large portion of the population have used telehealth services; more than half say they would use telehealth for mental health services; and more than 30% say they prefer telehealth. To review the full APA 2021 Public Opinion Poll: Access to Care, click here.
Behavioral Health Provider Experiences with Telehealth in MI during COVID-19
Full Report – Behavioral Health Workforce Research Center at University of Michigan School of Public Health
IHPI State Brief