Bookstore
CMHA offers a variety of publications and products to help you meet your education and outreach goals.
RECIPIENT RIGHTS BOOKLETS
T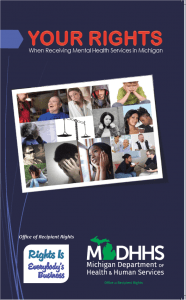 he Mental Health Code states that CMHSPs are required to distribute "Your Rights When Receiving Mental Health Services in Michigan" booklet to each recipient receiving services. Last revised 07/2018.
Price for Booklets:  55¢ (Plus Shipping)
Payment is required when the order is placed.
Shipments will take place within 30 days after payment has been received.
Questions about the Rights Books, please contact Audrey Daul at adaul@cmham.org or 517-374-6848.
Spanish, Arabic and Podcast:  The Rights Booklet is available to download in Spanish, Arabic and via Podcast by Clicking Here!
Annual Bulk Purchase, Personalization and Staple-less orders take place annually in the fall. 
ADDITIONAL PRODUCTS:
To purchase the following items, contact the person listed: